Pet First Aid Kit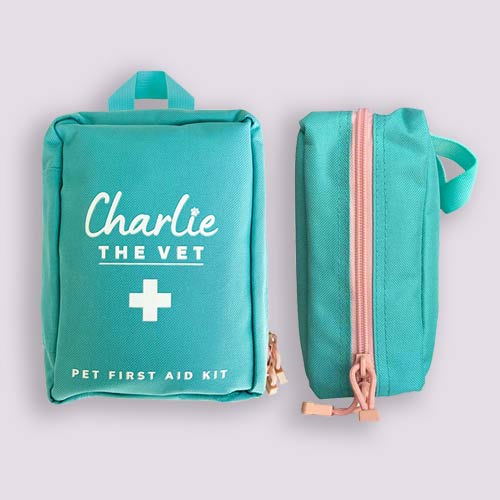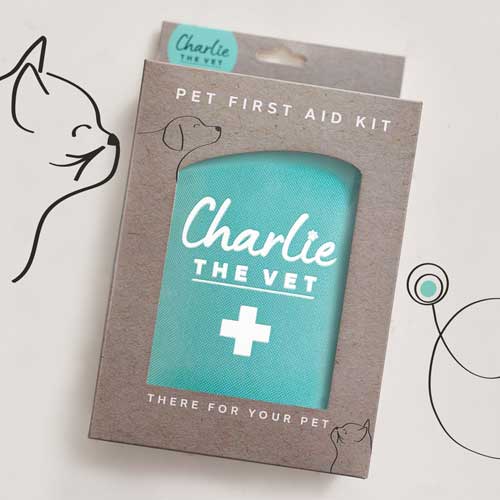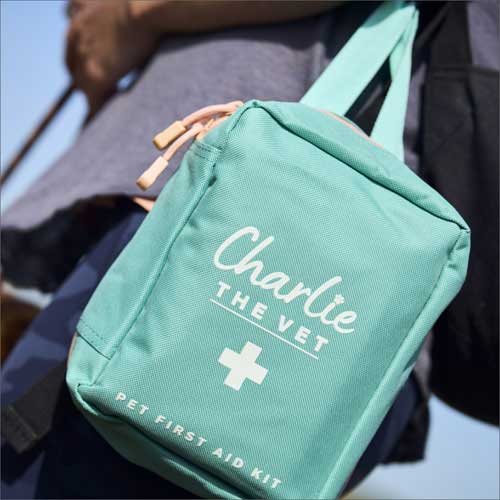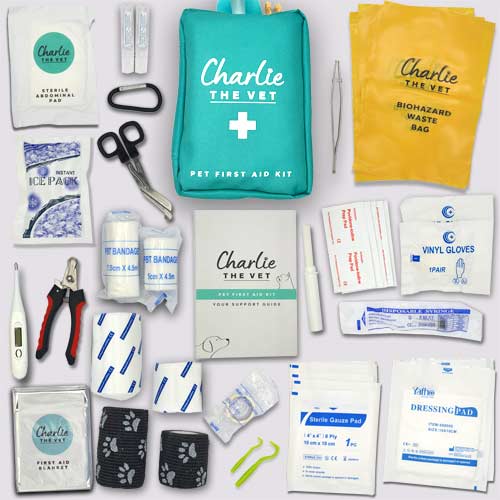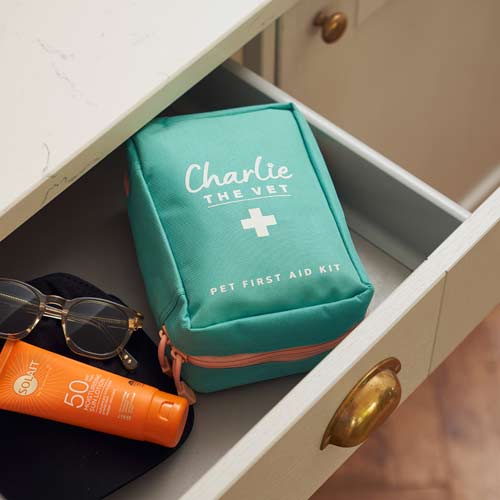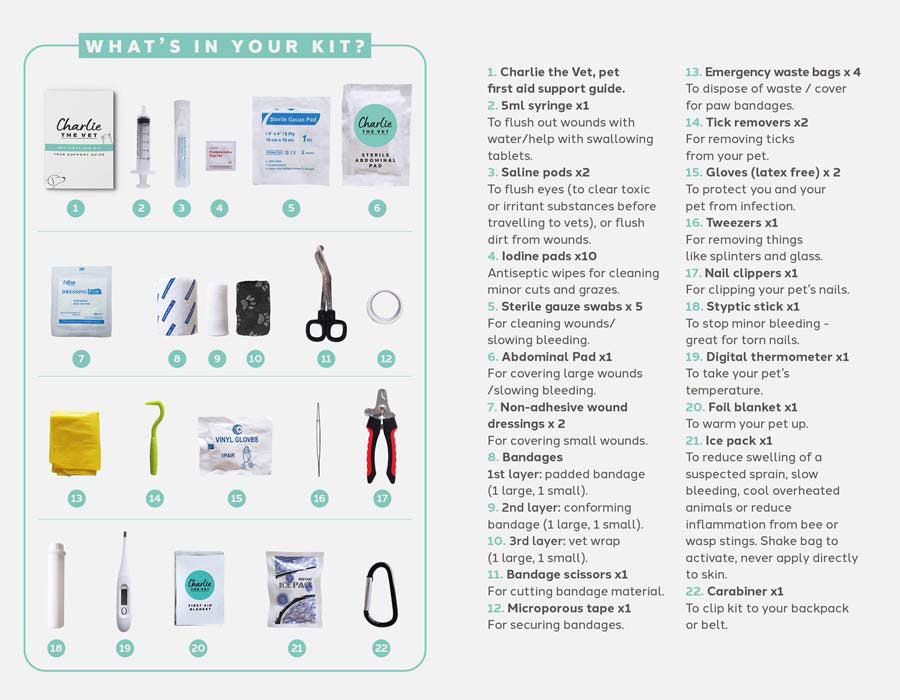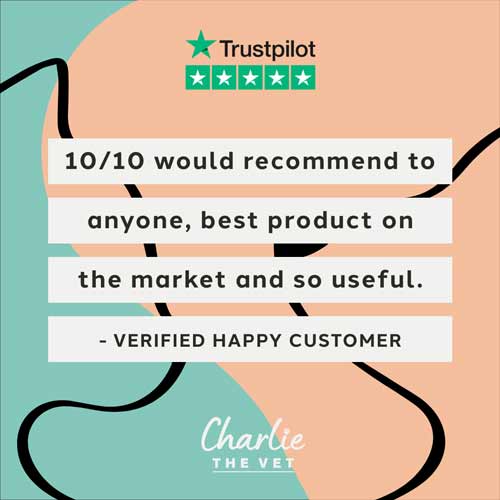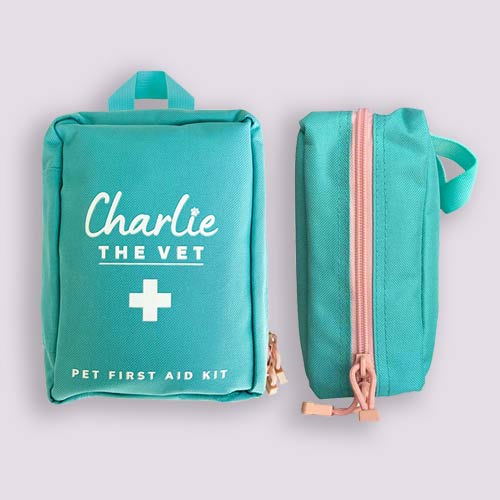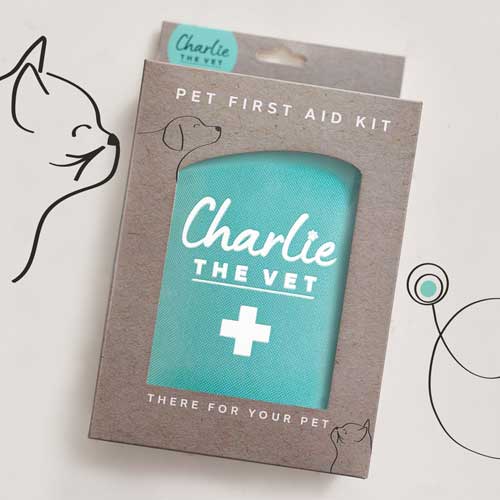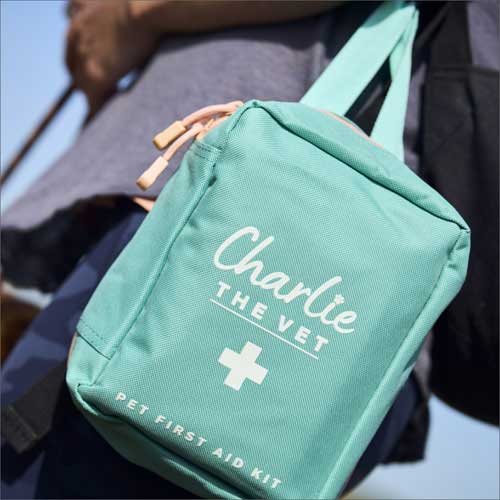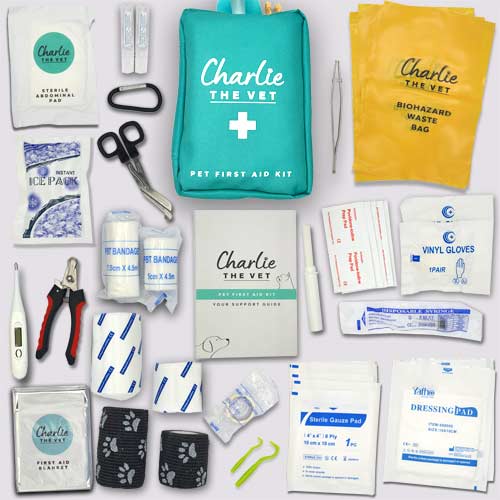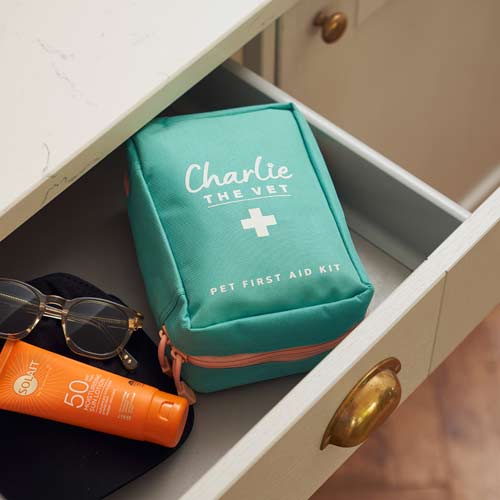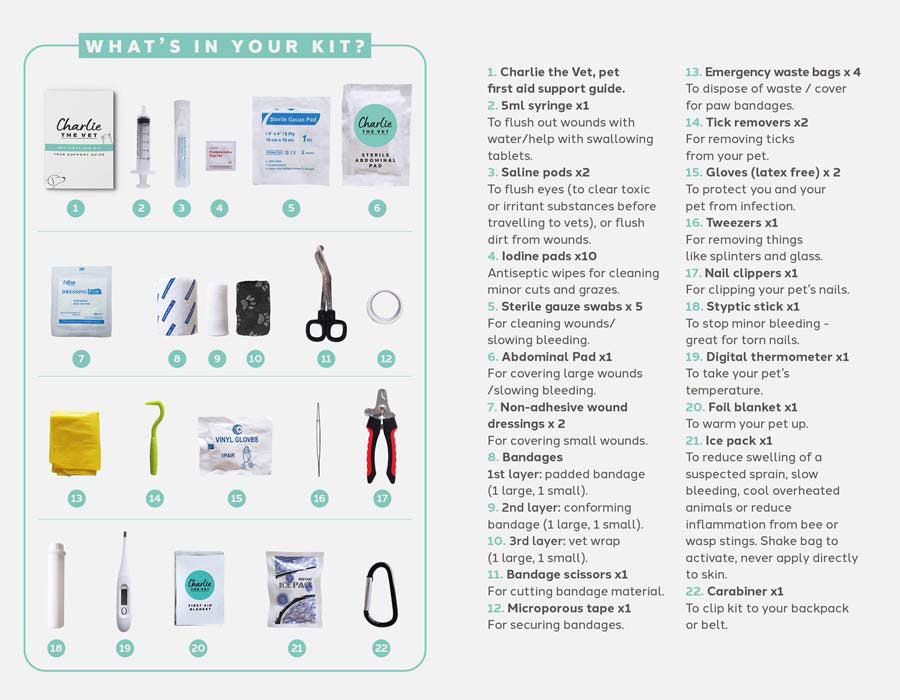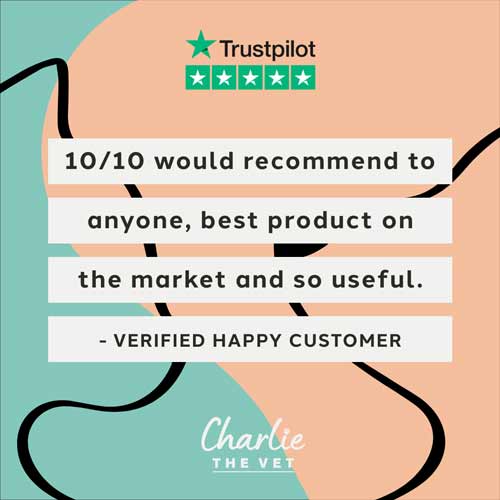 By Vets, For Pets
Give your pets the best care you can and prevent unnecessary visits to your vet - whether at home, or out and about - with our stylish, high-quality pet first aid kit designed by veterinary experts.
Our kit contains an illustrated guide and all the tools you'll need to treat common emergencies in cats and dogs.
Be there for your pet.
Reviews
Great looking product packed with everything you need for minor doggie injuries. The guidance is particularly useful. I wish I'd bought this ages ago.
Rebecca
I needed information about heat stroke when a friend pointed me in Charlie The Vets web page. So much information and excellent advice!
Mrs Bagnall
Really unique and good quality product! Everything was sturdy and absolutely loved the booklet that came with it. Even the details of the logo...
Lucy
My kit bag for my dog has everything I need should my dog suffer an injury, or need it's nails clipping, or even remove those pesky ticks. Would heavily recommend Charlie the Vet.
Susan East
This first aid kit has everything you need and more! Compact, lightweight, waterproof and a nice design. An essential for any pet owner! Easy to use website and swift delivery!
Claudia
Charlie the Vet's first aid kit arrived promptly and is such good quality. It has everything you could need in an emergency and is a must have for any dog or cat owner.
Adelle Roberts
Features
Stylish and durable
Water resistant
Glows in the dark
Contains 45 quality items, including instructions for use
Great for home, car or hiking
Suitable for cats and dogs
Only kit on the market made by a vet - so you can be sure it contains everything you actaully need to treat common emergencies
What's in your kit?
Your kit comes in a durable, glow in the dark, water-resistant bag that can be easily attached to your belt when out walking with the carabiner inside.
Bag dimensions are 20cm x 14cm x 8cm
Note: to see pictures of all items, expand the image in the carousel at top of this page.
1 x Step-by-step illustrated guide for common emergencies
1 x 5ml syringe
2 x Saline pods - for flushing eyes and wounds
10 x Iodine pads -antiseptic wipes for cleaning minor cuts and grazes
5 x Sterile gauze swabs
1 x Abdominal pad - for covering larger wounds and slowing bleeding
2 x Non-adhesive wound dressings - for covering small wounds
Padded bandages (1 large, 1 small) - 1st bandage layer
Conforming bandages (1 large, 1 small) - 2nd bandage layer
'Vet wraps'(1 large, 1 small) - 3rd bandage layer
1 x Bandage scissors - for cutting bandage material
1 x Microporous tape - for securing bandages
4 x Emergency waste bags - for disposing of waste / cover paw bandages
2 x Tick removers - for removing ticks
2 x Latex-free gloves - to protect you and your pet from infection
1 x Tweezers - for removing things like splinters and glass
1 x Nail clippers - for clipping paws
1 x Styptic stick - to stop minor bleeding, great for torn nails
1 x Digital thermometer - for taking your pet's temperature
1 x Foil blanket - to warm your pet up
1 x Ice pack - to reduce swelling of a suspected sprain, slow bleeding, cool overheated animals, or reduce inflammation from bee or wasp stings
1 x Carabiner - to clip kit to your backpack or belt
Refer to the guide that comes with your Pet First Aid Kit, or visit our Pet First Aid Advice section for step-by-step instructions on how to use your kit for each type of emergency.
Delivery Information
Orders are processed the same day and dispatched on a Monday - Friday basis.
Standard shipping to the UK is free - your parcel should arrive within 2-4 days.
Express shipping to the UK is £5.99 - your parcel should arrive next day if you order before before 11am (during congested periods, delivery can be between 1-3 days).
AS SEEN IN